Deadpan Alley


An Unofficial Website about an MTV's cynical teen, Daria.

"Here comes the soul train, beep beep get on board."
---
The New Season Has Arrived!!
Go to New Season and experience it!!
---
Daria, the Myth, the Legend
Our glamour girl of the 90's, Daria is here to shepard us through the land of darkness.


Characters
Want to know who this guy was or what she had to do with anything? Look here for a list of major and minor characters on Daria.


Episodes
Seen it, loved it, have to know them in order? From first to second season, it's all right here.


Mystik Spiral/Helpful Corn
You've seen them, you've heard them. The band, the legend, experience them here.


The Fashion Club
The do's and dont's of fashion. Learn them from the experts!


Question of the Month
Challenge the knowledge of the ancient's and answer a torturin question, changed monthly.


Links
Darians aren't new to the net. Here's a page of many other's homepages far superior to mine.

---
Soon to Come
Quotes Page & Fan Fiction page in the works
---
Sign The Guestbook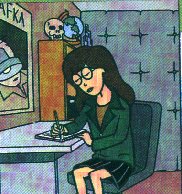 View The Guestbook
Suggestions? Comments? Complaints?
Send mail to bwesley@kih.net.
---
Daria is © of MTV. They own the show, the characters, so let's show some respect to them.